5L Double-walled Mini Keg with tapping kit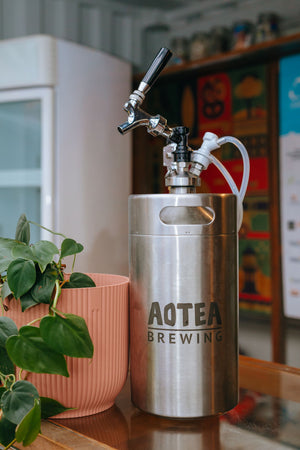 Product image 1
Product image 2

You will be stoked with this bit of kit that allows you to enjoy fresh, cold beer straight from your own tap.
Double walled so it will stay cold for ages but also easy to fit into your chilly bin or fridge on its side if you aren't cracking it for a while.
Like everything we do, this system avoids all those single-use bottles or cans to deal with after your picnic, party or boat trip.  But unlike most of these mini kegs on the market we have gone a step further on getting rid of the waste, instead of having to buy CO2 canisters for your keg, this set-up comes with an adaptor which allows you to hook up your sodastream CO2 bottle!
Of course we think it's perfect for filling up at your local brewery or refillery (equivalent to approx 15 standard bottles/cans) but it's also awesome for serving your favourite carbonated cocktail or non-alcoholic drink.
Kit includes:
- Lightweight, sturdy double walled keg made of 304 stainless steel (with screw top for storage)
- Keg is 360mm high x 180 mm dia without tap system
- Ball lock spear with 2 ball lock disconnect,
- Brass faucet and shank,
- CO2 regulator with barb, and
- Sodastream bottle adaptor (sodastream bottle not included)

*Keg has Aotea Brewing logo not shown in this picture
** These kegs are available for hire for events located on Aotea or in Tāmaki Makaurau, get in touch with the Aotea Brewing team to discuss.