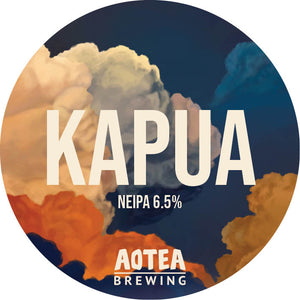 Kapua Juicy NEIPA 6.5%
Jam packed with juicyfruit flavours from Mosaic, Riwaka and Nectaron, this luscious passionfruity drop is just the ticket to ignore winter, close your eyes and pretend you are still on a beach.

Kapua not only describes the style of this beer using the beautiful te reo word for cloud but it is also the name of the boat which delivered all of our brewery to Aotea.
Artwork by the very talented local artist Nicol Coles.
Get in touch if you want to discuss large orders or delivery to other parts of the island.